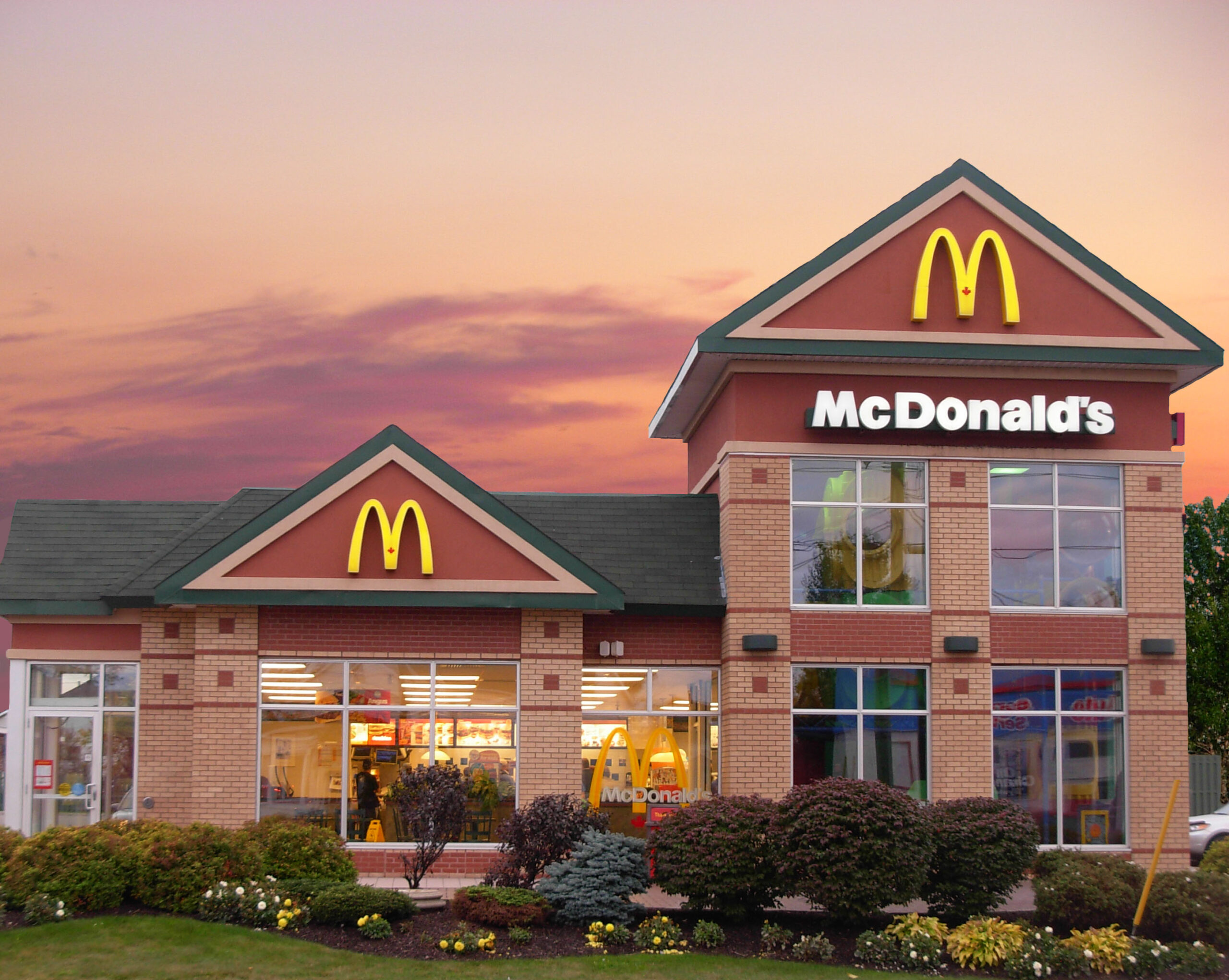 Image by/from Stu pendousmat (talk)
Franchising is based on a marketing concept which can be adopted by an organization as a strategy for business expansion. Where implemented, a franchisor licenses its know-how, procedures, intellectual property, use of its business model, brand, and rights to sell its branded products and services to a franchisee. In return the franchisee pays certain fees and agrees to comply with certain obligations, typically set out in a Franchise Agreement.
The word "franchise" is of Anglo-French derivation—from franc, meaning free—and is used both as a noun and as a (transitive) verb.
For the franchisor, use of a franchise system is an alternative business growth strategy, compared to expansion through corporate owned outlets or "chain stores". Adopting a franchise system business growth strategy for the sale and distribution of goods and services minimizes the franchisor's capital investment and liability risk.
Franchising is not an equal partnership, especially due to the legal advantages the franchisor has over the franchisee. But under specific circumstances like transparency, favourable legal conditions, financial means and proper market research, franchising can be a vehicle of success for both franchisor and franchisee.
Thirty-six countries have laws that explicitly regulate franchising, with the majority of all other countries having laws which have a direct or indirect effect on franchising.
Franchising is also used as a foreign market entry mode.
The boom in franchising did not take place until after World War II. Nevertheless, the rudiments of modern franchising date back to the Middle Ages when landowners made franchise-like agreements with tax collectors, who retained a percentage of the money they collected and turned the rest over. The practice ended around 1562 but spread to other endeavors. For example, in 17th century England franchisees were granted the right to sponsor markets and fairs or operate ferries. There was little growth in franchising, though, until the mid-19th century, when it appeared in the United States for the first time.
One of the first successful American franchising operations was started by an enterprising druggist named John S. Pemberton. In 1886, he concocted a beverage comprising sugar, molasses, spices, and cocaine. Pemberton licensed selected people to bottle and sell the drink, which was an early version of what is now known as Coca-Cola. His was one of the earliest—and most successful—franchising operations in the United States.
The Singer Company implemented a franchising plan in the 1850s to distribute its sewing machines. The operation failed, though, because the company did not earn much money even though the machines sold well. The dealers, who had exclusive rights to their territories, absorbed most of the profits because of deep discounts. Some failed to push Singer products, so competitors were able to outsell the company. Under the existing contract, Singer could neither withdraw rights granted to franchisees nor send in its own salaried representatives. So, the company started repurchasing the rights it had sold. The experiment proved to be a failure. That may have been one of the first times a franchisor failed, but it was by no means the last. (Even Colonel Sanders did not initially succeed in his Kentucky Fried Chicken franchising efforts.) Still, the Singer venture did not put an end to franchising.
Other companies tried franchising in one form or another after the Singer experience. For example, several decades later, General Motors Corporation established a somewhat successful franchising operation in order to raise capital. Perhaps the father of modern franchising, though, is Louis K. Liggett. In 1902, Liggett invited a group of druggists to join a "drug cooperative." As he explained to them, they could increase profits by paying less for their purchases, especially if they set up their own manufacturing company. His idea was to market private label products. About 40 druggists pooled $4,000 of their own money and adopted the name "Rexall". Sales soared, and Rexall became a franchisor. The chain's success set a pattern for other franchisors to follow.
Although many business owners did affiliate with cooperative ventures of one type or another, there was little growth in franchising until the early 20th century, and in whatever form franchising existed, it looked nothing like what it is today. As the United States shifted from an agricultural to an industrial economy, manufacturers licensed individuals to sell automobiles, trucks, gasoline, beverages, and a variety of other products. The franchisees did little more than selling the products, though. The sharing of responsibility associated with contemporary franchising arrangement did not exist to a great extent. Consequently, franchising was not a growth industry in the United States.
It was not until the 1960s and 1970s that people began to take a close look at the attractiveness of franchising. The concept intrigued people with entrepreneurial spirit. However, there were serious pitfalls for investors, which almost ended the practice before it became truly popular.
The United States is a leader in franchising, a position it has held since the 1930s when it used the approach for fast-food restaurants, food inns and, slightly later, motels at the time of the Great Depression. As of 2005, there were 909,253 established franchised businesses, generating $880.9 billion of output and accounting for 8.1 percent of all private, non-farm jobs. This amounts to 11 million jobs, and 4.4 percent of all private sector output.
Mid-sized franchises like restaurants, gasoline stations and trucking stations involve substantial investment and require all the attention of a businessperson.
There are also large franchises like hotels, spas and hospitals, which are discussed further under technological alliances.
Three important payments are made to a franchisor: (a) a royalty for the trademark, (b) reimbursement for the training and advisory services given to the franchisee, and (c) a percentage of the individual business unit's sales. These three fees may be combined in a single 'management' fee. A fee for "disclosure" is separate and is always a "front-end fee".
A franchise usually lasts for a fixed time period (broken down into shorter periods, which each require renewal), and serves a specific territory or geographical area surrounding its location. One franchisee may manage several such locations. Agreements typically last from five to thirty years, with premature cancellations or terminations of most contracts bearing serious consequences for franchisees. A franchise is merely a temporary business investment involving renting or leasing an opportunity, not the purchase of a business for the purpose of ownership. It is classified as a wasting asset due to the finite term of the license.
Franchise fees are on average 6.7% with an additional average marketing fee of 2%. However, not all franchise opportunities are the same and many franchise organizations are pioneering new models that challenge antiquated structures and redefine success for the organization as well as the franchisee.
A franchise can be exclusive, non-exclusive or "sole and exclusive".
Although franchisor revenues and profit may be listed in a franchise disclosure document (FDD), no laws require an estimate of franchisee profitability, which depends on how intensively the franchisee "works" the franchise. Therefore, franchisor fees are typically based on "gross revenue from sales" and not on profits realized. See remuneration.
Various tangibles and intangibles such as national or international advertising, training and other support services are commonly made available by the franchisor.
Franchise brokers help franchisors find appropriate franchisees. There are also main 'master franchisors' who obtain the rights to sub-franchise in a territory.
According to the International Franchise Association approximately 44% of all businesses in the United States are franchisee-worked.
Franchising is one of the few means available to access venture capital without the need to give up control of the operation of the chain and build a distribution system for servicing it. After the brand and formula are carefully designed and properly executed, franchisors are able to sell franchises and expand rapidly across countries and continents using the capital and resources of their franchisees while reducing their own risk.
There is also risk for the people buying the franchises. However, failure rates are much lower for franchise businesses than independent business startups.
Franchisor rules imposed by the franchising authority are becoming increasingly strict. Some franchisors are using minor rule violations to terminate contracts and seize the franchise without any reimbursement.
Franchising brings with it several advantages and disadvantages for firms looking to expand into new areas and foreign markets. The primary advantage is that the firm does not have to bear the development cost and risks of opening a foreign market on its own, as the franchisee is typically responsible for those costs and risks, putting the onus on them to build a profitable operation as quickly as possible. Through franchising, a firm has the potential of building a global presence quickly and also at a low cost and risk.
A primary disadvantage to franchising is quality control, as the franchisor wants the firm's brand name to convey a message to consumers about the quality and consistency of the firm's product. They want the consumer to experience the same quality regardless of location or franchise status. This can prove to be an issue with franchising, as a customer who had a bad experience at one franchise may assume that they will have the same experience at other locations with other services. Distance can make it difficult for firms to detect whether or not the franchises are of poor quality. One way around this disadvantage is to set up extra subsidiaries in each country or state in which the firm expands. This creates a smaller number of franchisees to oversee, which will reduce the quality control challenges.
Each party to a franchise has several interests to protect. The franchisor is involved in securing protection for the trademark, controlling the business concept and securing know-how. The franchisee is obligated to carry out the services for which the trademark has been made prominent or famous. There is a great deal of standardization required. The place of service has to bear the franchisor's signs, logos and trademark in a prominent place. The uniforms worn by the staff of the franchisee have to be of a particular design and color. The service has to be in accordance with the pattern followed by the franchisor in the successful franchise operations. Thus, franchisees are not in full control of the business, as they would be in retailing.
A service can be successful if equipment and supplies are purchased at a fair price from the franchisor or sources recommended by the franchisor. A coffee brew, for example, can be readily identified by the trademark if its raw materials come from a particular supplier. If the franchisor requires purchase from her stores, it may come under anti-trust legislation or equivalent laws of other countries. So too the purchase things like uniforms of personnel and signs, as well as the franchise sites, if they are owned or controlled by the franchisor.
The franchisee must carefully negotiate the license and must develop a marketing or business plan with the franchisor. The fees must be fully disclosed and there should not be any hidden fees. The start-up costs and working capital must be known before the license is granted. There must be assurance that additional licensees will not crowd the "territory" if the franchise is worked according to plan. The franchisee must be seen as an independent merchant. It must be protected by the franchisor from any trademark infringement by third parties. A franchise attorney is required to assist the franchisee during negotiations.
Often the training period – the costs of which are in great part covered by the initial fee – is too short in cases where it is necessary to operate complicated equipment, and the franchisee has to learn on their own from instruction manuals. The training period must be adequate, but in low-cost franchises it may be considered expensive. Many franchisors have set up corporate universities to train staff online. This is in addition to providing literature, sales documents and email access.
Also, franchise agreements carry no guarantees or warranties and the franchisee has little or no recourse to legal intervention in the event of a dispute. Franchise contracts tend to be unilateral and favor of the franchisor, who is generally protected from lawsuits from their franchisees because of the non-negotiable contracts that franchisees are required to acknowledge, in effect, that they are buying the franchise knowing that there is risk, and that they have not been promised success or profits by the franchisor. Contracts are renewable at the sole option of the franchisor. Most franchisors require franchisees to sign agreements that mandate where and under what law any dispute would be litigated.
Franchise contracts also influence the development of trust between partners. Scholars in economics and management have noted how differences in the framing of contractual obligations (promotion-framed vs. prevention-framed) can foster distinct perceptions and levels of trust.
In the United Kingdom there are no franchise-specific laws; franchises are subject to the same laws that govern other businesses. There is some self-regulation through the British Franchise Association (BFA), Quality Franchise Association (QFA) and the Approved Franchise Association (AFA).
There are a number of franchise businesses which are not members of the BFA and many which do not meet the BFA membership criteria. Part of the BFA's role in self-regulation is to work with franchisors through the application process and recommend changes which will lead to the franchise business meeting BFA standards. A number of businesses that refer to themselves as franchises do not conform to the BFA Code of Ethics are therefore excluded from membership.
On 22 May 2007, hearings were held in the UK Parliament concerning citizen-initiated petitions for special regulation of franchising by the government of the UK due to losses incurred by citizens who had invested in franchises. The Minister of Industry, Margaret Hodge, conducted hearings but saw no need for any government regulation of franchising with the advice that government regulation of franchising might lull the public into a false sense of security. Mr Mark Prisk MP suggested that the costs of such regulation to the franchisee and franchisor could be prohibitive and would in any case provide a system which mirrored the work already being completed by the BFA. The Minister of Industry indicated that if due diligence were performed by the investors and the banks, the current laws governing business contracts in the UK offered sufficient protection for the public and the banks. The debate also made reference to the self-regulatory function performed by the BFA recognizing that the association "punched above its weight".
In recent years, the idea of franchising has been picked up by the social enterprise sector, which hopes to simplify and expedite the process of setting up new businesses. A number of business ideas, such as soap making, wholefood retailing, aquarium maintenance, and hotel operation have been identified as suitable for adoption by social firms employing disabled and disadvantaged people.
The most successful examples are probably the Kringwinkel second-hand shops employing 5,000 people in Flanders, franchised by KOMOSIE, the CAP Markets, a steadily growing chain of 100 neighbourhood supermarkets in Germany. and the Hotel Tritone in Trieste, which inspired the Le Mat social franchise, now active in Italy and Sweden.
Social franchising also refers to a technique used by governments and aid donors to provide essential clinical health services in the developing world.
Social Franchise Enterprises objective is to achieve development goals by creating self sustainable activities by providing services and goods in un-served areas. They use the Franchise Model characteristics to deliver Capacity Building, Access to Market and Access to Credit/Finance.
Third-party logistics has become an increasingly more popular franchise opportunity due to the quickly growing transportation industry and low cost franchising. In 2012, Inc. Magazine ranked three logistics and transportation companies in the top 100 fastest growing companies in the annual Inc. 5000 rankings.
Event franchising is the duplication of public events in other geographical areas, retaining the original brand (logo), mission, concept and format of the event. As in classic franchising, event franchising is built on precisely copying successful events. An example of event franchising is the World Economic Forum, also known as the Davos forum, which has regional event franchisees in China, Latin America, etc. Likewise, the alter-globalist World Social Forum has launched many national events. When The Music Stops is an example of an events franchise in the UK, in this case, running speed dating and singles events.
The franchising or duplication of another firm's successful home-based business model is referred to as a home-based franchise. Home-based franchises are becoming popular as they are considered to be an easy way to start a business as they may provide a low barrier for entry into entrepreneurship. It may cost little to start a home-based franchise, but experts say that "the work is no less hard."