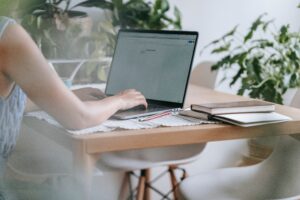 In this article we're going talk about how to start a new business! All right, so we want to start a business, hooray! When it comes to starting a business, you want to get organized, and first things first, figuring out what your business name is.
So now once you have that name, you really want to figure out and create your business plan. This is just a simple document that's going to go over what your business is all about, what you do, who your market is, who your customers are, everything that you need to potentially show to investors to give you the money to start the business.
You have to have a clear action plan with all the details. Plus it'll help you to really flush out what you need and the goals you should keep top of mind in order to succeed. And it keeps you kind of grounded so you're not going in a million different places, as we all do, I know I do it a lot. If you don't have that business plan written out, you will be everywhere and nowhere.
After you get organized, and you've committed to what you want to do with your business, what comes next? I've seen my entrepreneurial friends and I went through it myself, is determining whether you want to operate as a Limited company or sole trader. You definitely have to register your business in some shape or fashion. What most people do is the limited company but there's also the partnership if there is more than one of you starting the business together.
Why Limited Company? Well, it helps you really protect yourself from your business. So if your business was ever sued, they can't come after your personal assets. It's going to keep you and your business separated. Once you have that, the next thing will be to register your business with HM Revenue and Customs (HMRC).
That's really going to help you when it comes time to creating a business bank account. Next up you need to check if your business needs a special license in order to operate. For example, if you are thinking of opening a business that involves the sale of alcohol in the UK you will need a license.
The next thing you need to do with starting your business, is figuring out where you want to work. Now with some businesses such as a cafe, you can't really do that at home, you have to have a shop, but some businesses you can do at home. A good example will be online survey. You can also do a co-working space which is super popular these days.
If you don't know what a co-working space is, you essentially rent out part of a building, or you rent out a desk, where there are tons of other entrepreneurs just like you, doing the same thing. It can be advantageous to get out of the house and operate around people just like you with the same mindset.
I love working from home, but I need to kind of mix it up every now and then. So it's that or a shop. The co-working space can have its advantages. Think about it, you're in such an exciting time, you're starting a business. You might meet someone that could help you network, or help you with that next step, because there's a lot of like-minded people hanging out there, doing productive things like you.
Money management is important when you are running a business. So, get a business bank account, don't use your personal account, especially when you're paying your employees, and everything else. Also open up a line of credit just in case something happens and you need some quick funds.
Next, talk to an accountant to help you keep everything organized. That has been very helpful for my other local heroes out there, my business friends recommend that.
Another big essential is insurance! Whatever you do, you need to cover your business with insurance. Check out all the different insurances, and do your research to make sure you're fully covered, because you never know what might happen. Someone might hurt themselves at your business premises or you might pick up a tussle with one of your suppliers. You need insurance to cover these things.
Next thing is branding your business. Start with your email address and your logo. There is also social media and all the marketing. What are you are going to do with your website? So think about your branding. Those are pretty important essential things.
Let's start with a domain name and your email address. Your domain name has to be something that will get people to your website. You don't want to have some random URL. You want it to be your business. And with that, you'll have that professional email.
Compare .com to gmail.com. If you have the ending not be your domain name, it doesn't look as professional. I love Gmail, but as a business, have it your domain name. You can still do Gmail for business, there's Office 365, lots of email providers that you can use to really make your business look professional and credible.
Now lets jump into your website. That's the whole point of having an online presence. It's something that you control. You need to have some kind of website, even if it's just basic information on what you do, or some videos of your product. You could even add an option for people to spend money on your website. Another important thing to bring up, make sure you have contact info on your website.
Now for you business social media! That is where you want to go and really take the logo that you have and be consistent with it across all of your platforms such as Facebook, Twitter, Instagram and Pinterest. Make sure to set up business pages not personal pages. This is very important.
And finally what are your policies? What are the policies in place for your business? With almost any type of business, you need a terms of service. Depending on the type of business you run, you should probably consult a lawyer with this.
The important thing is that you should have something. Like what is your return policy? What's your privacy policy? Do you keep customer information? What does all this look like? Have some kind of terms of service to help protect you and your business. Make a copy of your policies available for all of your employees.
Most companies will usually have it on their website. Usually down at the bottom where there's a little link to the terms and service and the privacy policy. Be accessible! – Yes. – And also have some social proof. That is definitely today's word of mouth. So be easily accessible. Make it easy for me to contact you, and definitely make sure I can find you readily.
Make yourself easily available on Facebook, Twitter, and Instagram. The social proof is basically just testimonials and reviews of other customers. You want them to say hey, Mary's hair studio is awesome, or Jimmy's take away is awesome, or whatever that looks like. It really helps people identify with you and trust you.
A pro tip for you all, do not be just a cave dweller, go out into the open and be social. Talk to people on social media, talk to people in real life, and really put your business and yourself out there. You can't expect them all just to come to you. That will not happen. I know that it's a famous quote, "if you build it they will come", they won't! You have to go to them and show them what you're all about. Be proactive and add the human element to your online presence.